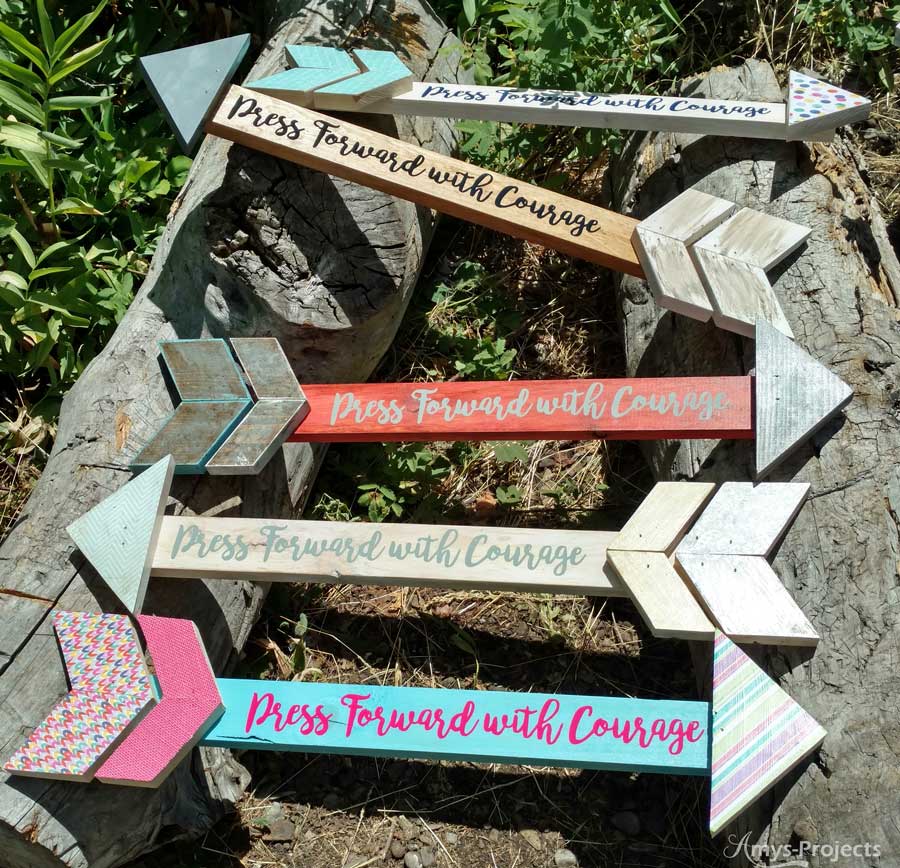 I have lots of fond memories of LDS Girls Camp (youth camp for our church) growing up. It's been about 7 years since my last girls camp (as a leader), and I was excited to be going again this summer. I volunteered to do one of the camp crafts this year and to go along with the Press Forward theme, we decided to make DIY wood arrows. Our girls camp theme was The Wizard of Oz, which was also conveniently our New Beginnings theme. Our wood craft day fell on the day that the cowardly lion gained courage, so our arrows say 'Press Forward with Courage'! They turned out super cute and it was fun to see the creativity of each girl.
The inspiration for these arrows came from this cute instagram post, here's a link to her etsy shop.

How to Make a DIY Wood Arrow
This post contains affiliate links noted by *.
Materials
1 – 1″ x 4″ x 8′ board (actual dimensions 3/4″ x 3 1/2″)
1 – 1″ x 3″ x 8′ board (actual dimensions 3/4″ x 2 1/4″-2 1/2″)
scrapbook paper
stain/paint
vinyl – optional
scissors
pencil
brad nailer (I love my Ryobi Airstrike, I only had to take the nailer and batteries to camp, compressor is in the tool!)
I made about 113 arrows. The wood and nails came out to be $0.84 per arrow. The wood glue is about $4 and that is plenty for all of those arrows.
If you are making a bunch of arrows like I did, here's how many you can fit on a board.
9 feather sets per 8′ board
25 arrow heads per 8′ board
4 shafts per 8′ board (these can be made shorter or longer depending on your design/wording)

Supplies for 113 arrows (word to the wise, don't let anyone know that you're handy 🙂 especially your Mom!)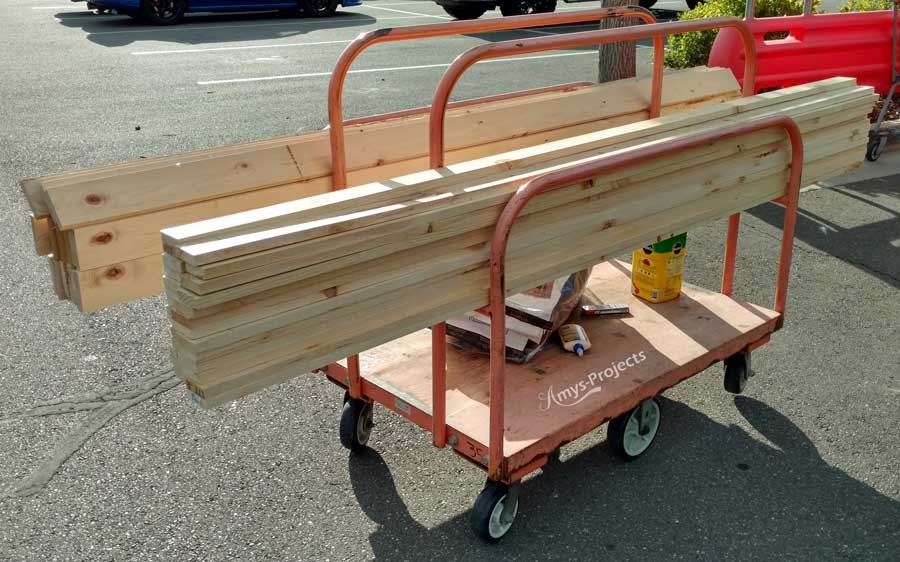 Cut List (per arrow)
1 – 3/4″ x 3 1/2″ x 7″ (45 deg miter cuts on each end to make a triangle) – arrow head
1 – 3/4″ x 2 1/2″ x 24″ – arrow shaft
2 – 3/4″ x 3″ x 3″ (cut at 30 deg miter) – large feathers
2 – 3/4″ x 3″ x 2″ (cut at 30 deg miter) – small feathers

For the feathers, I ripped down the 3 1/2″ board to 3″ wide before making the miter cuts. I liked the proportion to the arrow head at 3″ instead of 3 1/2″. If you don't have a way to rip the boards, you can leave them at 3 1/2″ and it should still look fine.
Step 1
Make the arrow cuts according to the cut list. Sand the arrow pieces as necessary.
I have a keyhole bit* for my router, this is used to make a slot to hang projects. If you want to, route a keyhole slot in the back of the shaft. To make the arrow hang straight on the wall route the slot 8 1/2″ – 10 1/2″ from one end, this will allow for some leeway.


Step 2 DIY Wood Arrow Assembly
Here is a handy 1 page assembly guide that you can print if you want. Wood Arrow Craft assembly instructions
Paint Arrow Shaft
Paint or stain the arrow shaft (tops and edges), set out to dry.

Trace Papers
Get 1 arrow head, 2 large feathers and 2 small feathers. Very Important: Orient the feathers so they will form a chevron. Trace the arrow head and feathers onto the scrapbook paper and cut out just inside the line. (Don't pre-cut the papers, each piece is slightly different).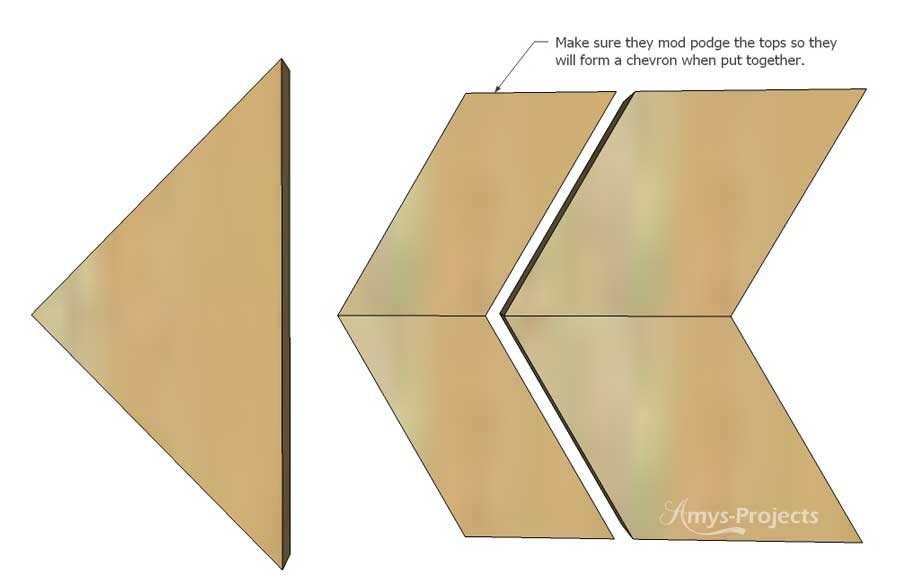 Mod Podge Papers
Mod Podge the papers to the arrow head and feathers and set out to dry. Apply a thin coat of mod podge to the backs of the papers and press the papers onto the wood, smoothing out any bubbles. You can also apply mod podge to the tops of the papers to seal the paper.
Final Assembly
Very Important: If you use a keyhole, it needs to be on the backside closest to the feathers!


Use wood glue and 2 brad nails per piece of wood to attach the arrow head and feathers to the shaft.

Apply Vinyl – optional
Line up the vinyl, remove the backing and firmly place it on the arrow shaft. Pull the transfer tape off at a steep angle, making sure the vinyl stays in place.

I begged my sister to cut out a bunch of vinyl for me. The words took up just under 17″ long and 2″ tall. The font is bromello in 115 pt and bold. Here's the .psd file if you do Photoshop/Elements Press Forward with Courage. You should be able to create something similar with a silhouette* or cricket*.
Here are a few of the creations from the Young Women. I didn't catch them all, there were some really adorable and creative ones.
Ignore the back drop props, with 46 arrows, they were drying on everything and anything.
This wood arrow craft was definitely a hit!
Here are some of my Mom's ward young women's creations, so fun!!! Their camp theme was different, so she had my sister print out 'press forward' only.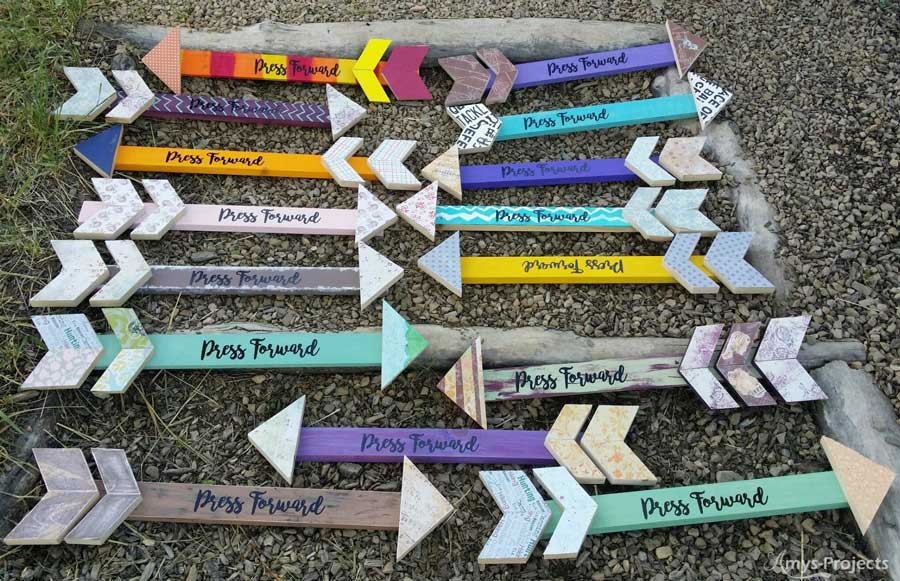 Thanks for pinning DIY wood arrow!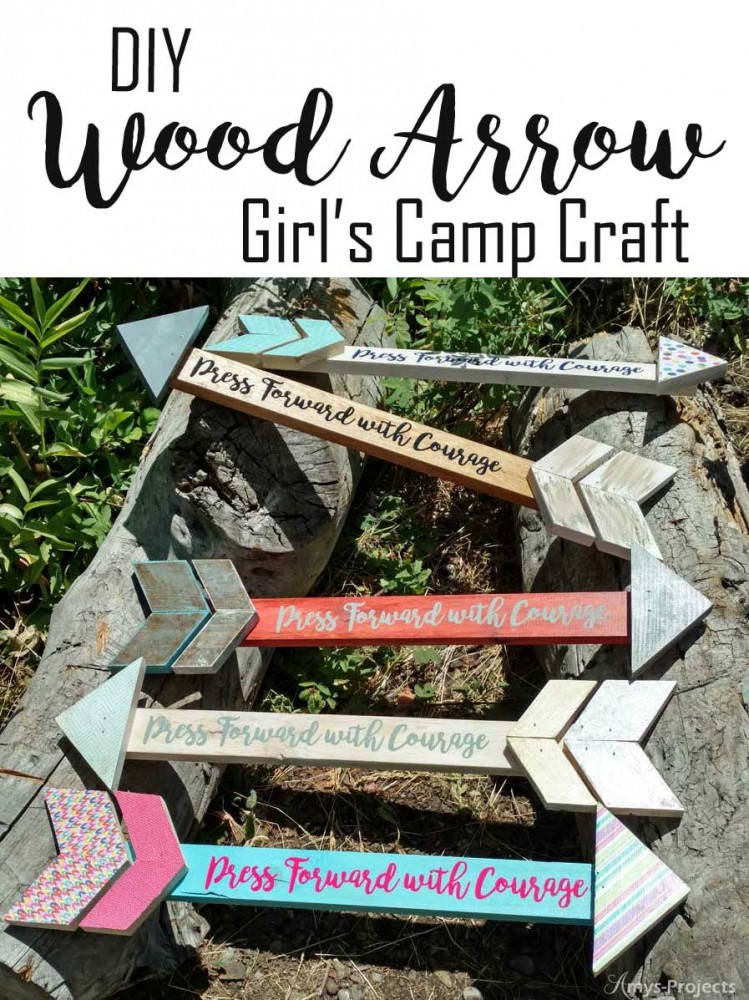 Linked to Savvy Southern Style